New Order only
Huawei HG8245H ONT 1x GPON, WiFi, 4x RJ45 1000Mbs, 2x RJ11, 1x USB
Stock:

Order only

Product code:

44058
Huawei
ONT Huawei EchoLife Terminal
Huawei EchoLife HG8245H is a GPON ONT client terminal used in FTTH networks. It has 2 phone sockets (POTS-RJ11), 4 Gigabit Ethernet ports, USB port and one GPON class B+ port. The device can also use wireless transmission using two antennas with 2dBi gain each. When using Wi-Fi it is possible to create multiple SSIDs. The maximum power consumption of HG8245H is only 15.5W.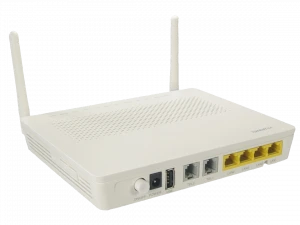 Features of the HG8245H terminal
- port GPON (class B+)
- 4 Gigabit Ethernet ports (LAN)
- 2 telephone ports (POTS-RJ11)
- Wi-Fi in IEEE 802.11b/g/n standard
- two external antennas with profit 2 dBi each
- USB 2.0 port
- functions Layer 3 and QoS
- energy savings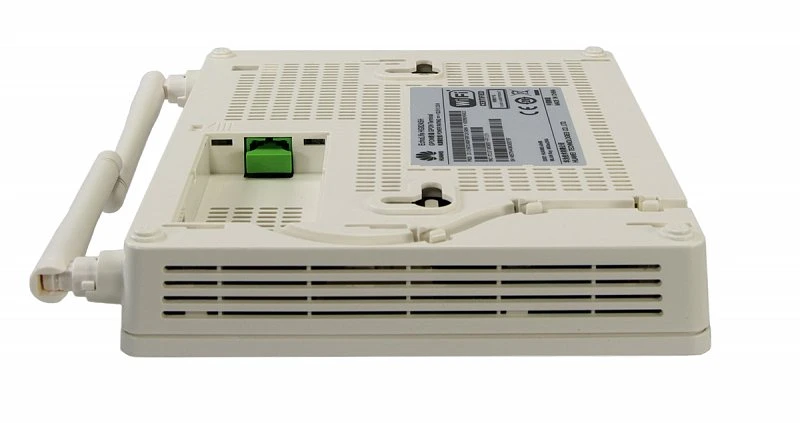 SPECIFICATION
Features / filters
Number of LAN ports
4x 10/100/1000BaseTX (RJ45)
PON standard
GPON
Wireless network standards
IEEE 802.11b, IEEE 802.11g, IEEE 802.11n,
USB port
1x USB
VoIP ports
2x POTS
Technical data
PON
1 port

Class B+

Sensitive reception: -27 dBm

Wavelength: US 1310nm, DS 1490nm

WBF

Flexible mapping between the GEM and TCONT ports

G.984.3

Bilateral FEC

SR-DBA and NSR-DBA
Ethernet
4 Gigabit ports

1:1 VLAN, N:1 VLAN or VLAN transparent transmission

QinQ VLAN

MAC address learning
POTS
2 ports

Maximum REN: 4

G.711A/u, G.729a/b and G.722

T.30 / T.38 / G.711 fax

DTMF

Emergency calls (via SIP protocol)
USB
1x USB 2.0

Possibility of creating a network drive based on FTP
WLAN
IEEE 802.11 b/g/n

2x2 MIMO

Antennas with 2 dBi gain

WMM

Many SSIDs

WPS
Dimensions
176x138.5x28 mm (without antenna)
Weight
About 500 g
Permissible operating temperature
0 to 40 degrees C
Permissible air humidity
5%-95% RH non-condensing
Power input
100 - 240 V AC, 50 - 60 Hz
System power supply
11 - 14 V DC, 2 A
Static power consumption
5 W
Maximum power consumption
15,5 W
Ports
2 POTS

4 Gigabit ports of Ethernet

USB

GPON
LEDs
POWER / PON / FATE / LAN / TEL / USB / WLAN / WPS
Set composition
The device

12 V, 2 A power supply

Ethernet cable


All cables we offer have a minimum quantity and are sold in multiples of it. FTP / UTP / SFTP CAT5e / CAT6 / CAT7 Length: 305 m in a carton or reel. Possibility to order 500m and 1000m by prior arrangement.